1. Overview
The Digital Channel Selective Repeaters is a new type wireless signal coverage equipment. It adopts digital processing technology, and reduces the active modules, improves reliability greatly.
The Digital Channel Selective Repeaters improves coverage of GSM network greatly without adding new base stations. It has high cost performance, compatibility, expansibility, reliability, stability and high linearity.
l Adopted digital channel selective technology, getting better out of band rejection, improved EVM, optimized voice performance.
l Reduced system NF(noise figure).weakened up link noise floor
l Improved reliability greatly, the digital processing technology reduced active modules remarkably, the MTBF more longer.;
l Adopted high speed and bigger dynamitic ranged ADC/DAC technology, gotten better voice performance.
l Adopted full-sealed shell, water proof, moisture proof, anticorrosive, all-weather using
3. Using condition
1) Working temperature: -25℃~+55℃;
2) Storage temperature储存温度: -40℃~+85℃;
3) Humidity:≤95%;
4) Air pressure:70kpa~106kpa;
5) Power supply: AC220V±20%,50±5Hz;
4. Main specifications
表2 GSM(中国移动)数字选频直放站主要技术指标
No.

Item

Parameters

Down link

Up link

1

Frequency

930MHz~954MHz

885MHz~909MHz

1805MHz~1830MHz

1710MHz~1735MHz

2

Bandwidth

200kHz

200kHz

3

Channel number

8~16

8~16

4

Max. Output power

10W

40±2dBm

30±2dBm

20W

43±2dBm

40W

46±2dBm

37±2dBm

60W

48±2dBm

5

Gain

95±3dB

90±3dB

6

Gain adjust range/step

31dB/1dB

7

Gain adjust error

@ 0~20dB,Error≤1dB;@21~31dB时,Error≤1.5dB

8

NF.

≤4dB

≤4dB

9

Max. Input power

10dBm

-10dBm

10

Auto Level control(ALC)

ALC range≥15dB

11

Gain flatness

≤3dB

12

In/out VSWR

≤1.5

13

Delay

≤14μs

14

Frequency error

≤5×10-8

15

Up link noise floor rejection

≥17dB

16

Spurious Mask

In band

≤-60dBc/30kHz或≤-36dBmc/3kHz

Out of band

2.5MHz offset

9kHz~1GHz:≤-36dBm

1GHz~12.75GHz:≤-30dBm

17

IMD

In Band

≤-45dBc/30kHz

≤-45dBc/30kHz

Out of band

2.5MHz offset

9kHz~1GHz:≤-36dBm/100kHz

1GHz~12.75GHz:≤-30dBm/1MHz

18

Out of band rejection

≤-40dBc@±400kHz

≤-60dBc@±600kHz

≤-65dBc@±1MHz

≤-70dBc@±5MHz

19

RF connector

N/F,50Ω

20

Power supply

AC220V±20%,50±5Hz

21

Protection Class

IP55

22

Outline

10W/20W:530*400*200mm(L*W*H)

40W/60W:660*400*218mm(L*W*H)

23

Monitor

具备本地监控和远程监控功能

Local monitor:232;

Remote monitor:GSM MODEM;

24

MTBF

≥50000h
5. Outside Drawing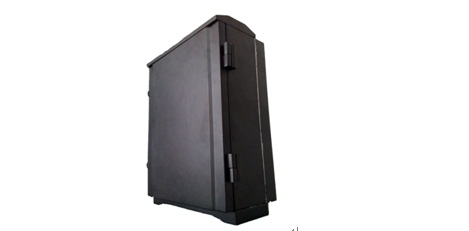 6. Connector

l BS:The donor antenna,N/F;
l MS:The retransmission antenna,N/F;
l GND: Ground;
l Loc alarm: Location alarm,connect to ground;
l Exit alarm: Outside alarm;
l AC/DC: AC 220V or DC -48V;
DC:Brown——V+;Blue——V-;
AC:Brown——L;Blue——N;Yellow——GND;